Rediscover the cultural precincts of Katong-Joo Chiat and Little India during ARTWALK 2022 by launching your "Pokémon GO" App. Catch your favourite Pokémon by visiting PokéStop and Gyms located at the various murals nestled within the precincts. Look out for the murals in the maps below. Lures will be dropped from 5pm – 6pm, 19 – 22 Jan 2022. Go catch 'em all!
Little India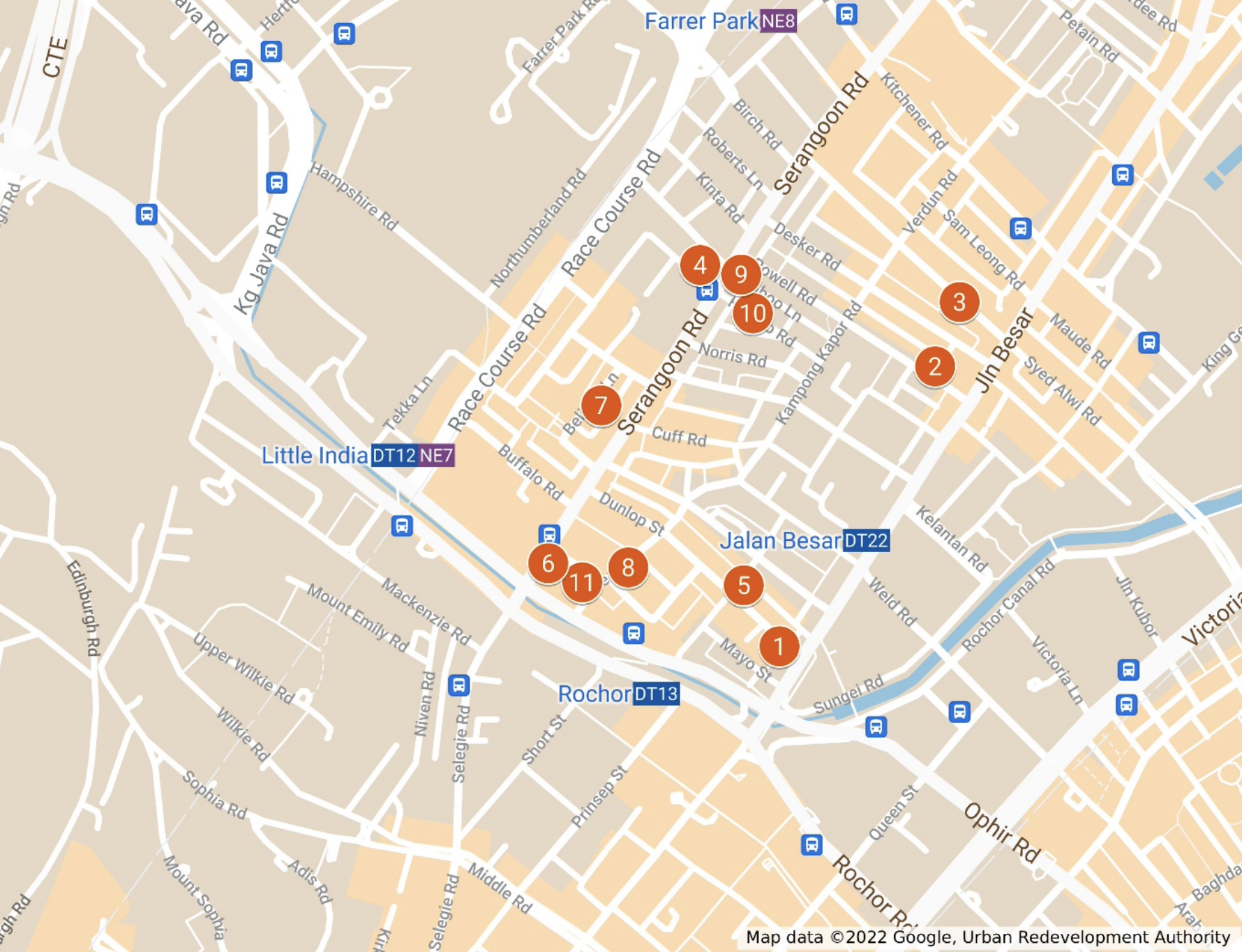 1. Windows by Shah Rizzal
1 Dunlop Street
2. The Sun Beaming by Lee Wan Xiang and Chand Chandramohan
109 Rowell Road
3. Birds of Parade by Slac Satu
72 Syed Alwi Road
4. Dancing in Unison by Sam Lo
195 Serangoon Road
5. Vilakku bb by Mithra Jeevananthan
50 Dunlop Street
6. Circles by Jezlyn Tan
2 Serangoon Road, Tekka Place Annex Block Level 1
7. Mayura by Boon 'BAKED'
22 Belilios Lane
8. A Scent of Lights by Song
20 Clive Street
9. Daily Delivery by Didier "Jaba" Mathieu
212 Serangoon Road
10. Working Class Hero by ZERO
11 Hindoo Road
11. Existence by Dem
2 Serangoon Road, Tekka Place Main Block Level 1

Katong-Joo Chiat
1. Jalan Jalan by Didier "Jaba" Mathieu
357 Joo Chiat Road
2. The Phoenix by Boon 'BAKED'
321 Joo Chiat Road
3. Turtle Cape by Ink & Clog Studio
150 East Coast Road
4. Medley Alley by Nicia Lam, Novena Angela, Yullis Lam and Valerie Neo
103 East Coast Road
5. Peranakan Culture by Dyn
111 East Coast Road
6. High Tide by Helene Le Chatlier
1 Koon Seng Road
7. A History of Healing by Tell Your Children
341 Joo Chiat Road
8. Kway by Jaxton Su
95 Joo Chiat Road
9. Style Wars by Ernest Zacharevic
85 Joo Chiat Terrace
10. The Ferryman by Ink & Clog Studio
333 Joo Chiat Road

Admission
Free admission
Download on App Store / Play Store
©2022 Niantic, Inc. ©2022 Pokémon. ©1995-2022 Nintendo/Creatures Inc. /GAME FREAK inc. During game play, please be aware of your surroundings and play safely.